"And if you threw a party…" You Better Invite Cindy Fee!
Cindy Fee, the voice of "The Golden Girls," joins Golden-Con: Thank You For Being A Fan to share her experience creating the most memorable and well-loved TV theme song in pop culture history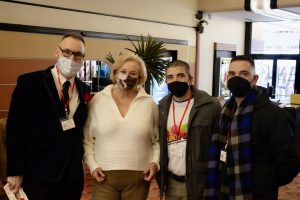 Cindy Fee is a singer. She's a wife, a mother, a thinker, a songwriter, and a fantastic public speaker. But to an outside observer, the most important fact you need to know about Cindy Fee is that she's a singer. 
We all know the TV theme song that Cindy Fee is best known for.  
Now we'll get to know a little bit more about the golden-voiced vocalist who has left her indelible sonic mark on pop culture. 
She's booked to attend Golden-Con and greet Golden fans. Maybe we can convince her to sing a few bars? If we're lucky, she might even make available some original recordings while we're all gathered at Golden-Con. 
She's been a demo vocalist for songwriters including Diane Warren. She's crisscrossed the U.S. many times as a band singer, a solo recording artist, belting for background sessions, helping to sell commercial jingles — you name it. If it requires a really good singer, Cindy Fee has been doing it. That includes TV jingles.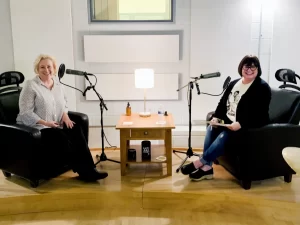 To her recollection, it likely took less than an hour for Cindy Fee to hit every note for "Thank You For Being A Friend" perfectly. 
The rest, of course, is TV history. We all know that "The Golden Girls" has never stopped being broadcast since its 1985 debut. It had a huge run during the DVD boom. And it's now a streaming superstar show. 
It's something you know like the back of your hand. It lifts you — a lot or a little — every time you hear it. You know what to expect from it. And you know what's coming right after it. 
Care to guess how many times in your life you've heard "Thank You For Being A Friend," also known as the theme song for "The Golden Girls"? Most of us probably can't count that high. 
In April of 2020 alone, Hulu reported that folks streamed 11 million hours of "The Golden Girls." That's enough hours for approximately 22 million streamed episodes. And at the start of every single one of those episodes, you hear a few piano notes and then, like clockwork, that warm, sublime voice thanks you for being a friend. 
Get to know the one and only Cindy Fee, the vocalist behind "Thank You For Being A Friend," the theme song played ahead of every episode of "The Golden Girls," at Golden-Con: Thank You For Being A Fan April 22-24, 2022 at Navy Pier in Chicago.
Tickets are on sale now! 
www.thankyouforbeingafan.com