Melinda McClanahan to Speak at Golden-Con!
Actress' real life sister and niece to bring "Rue's Wish" to Golden-Con fan convention!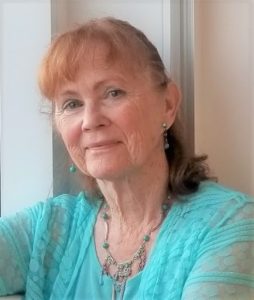 Photo caption:  Melinda McClanahan
Dr. Melinda McClanahan says she and her sister, Rue McClanahan, had a loving, unshakable bond as they grew up in rural Oklahoma.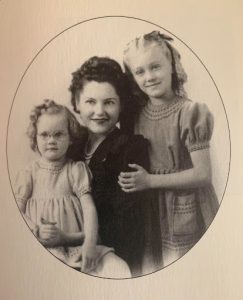 Photo caption: (L-R) Melinda McClanahan, (mother) Marie McClanahan and Eddi Rue McClanahan.  Photo courtesy Melinda McClanahan
"She wanted a little sister. She begged and begged our mother for a little sister," Melinda McClanahan explains of her older sister, known as a child as Eddi Rue. 
Eddi Rue's wish for a little sister was granted as Melinda was born when Eddi Rue was five and a half. 
McClanahan will join the first ever Golden-Con: Thank You For Being A Fan convention in April to share photographs, mementos, and memories of her life and adventures alongside Eddi Rue. Because she is the little sister Eddi Rue had longed for, Melinda McClanahan is calling her presentation at the fan festival "Rue's Wish."
Melinda McClanahan is semi-retired from career pursuits. As a young mother of four children, she achieved a PhD in Radiation Biology, an MBA, and another Master's degree. Rue McClanahan opened a dance studio as a teenager in Ardmore, Oklahoma before heading off to the University of Tulsa to pursue German language and theatre arts studies. She graduated with honors. 
Amelia Kinkade, Rue McClanahan's niece and Melinda McClanahan's daughter, says her mother and aunt never wrestled with the limitations life in Ardmore, Oklahoma, where the McClanahan sisters grew up, might have placed on young women in the 1950s.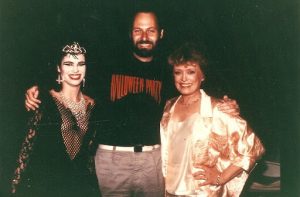 Photo caption: Amelia Kinkade and aunt, Rue McClanahan.  Photo courtesy Amelia Kinkade
"Both my aunt and my mother broke the paradigm," Kinkade says proudly. 
"They had a devil-may-care spirit. If they couldn't guarantee something was going to be successful, they would go ahead with a why not try it anyway attitude," Kinkade says. 
Kinkade is a six-time author and lecturer on animal advocacy and communication. She took off to Hollywood as a young woman to work as a dancer. Her aunt, who was working in sitcoms and TV movies ahead of breaking out as Blanche in "The Golden Girls," gave Kinkade a life-changing push."
"That was a little bit of nepotism," Kinkade laughs. 
"I arrived in Hollywood and Rue said 'Amelia, you're an actress,'" Kinkade recalls, initiating her aunt's distinctive, smooth voice. 
"I said, 'I don't think that's for me. I'm a dancer.' And Rue said, 'Amelia, you're going to be an actress."
For more information:
Amelia Kinkade
Golden-Con: Thank You For Being A Fan
April 22-24, 2022 
Chicago, IL
www.thankyouforbeingafan.com