Meet Chicago's On-Stage Blanche!
Hardcore fan brings Blanche to the stage in "The Lost Episodes"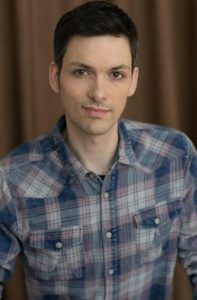 Sex-positive adventurous southern belle isn't exactly what most people might think of when they first meet Grant Drager, handsome and straitlaced by outward appearance. 
Nonetheless, the Chicago actor has managed to bring all those descriptors and more to the stage playing Blanche in Hell In A Handbag Productions' "The Lost Episodes" parodies of "The Golden Girls."
"I feel like there's a  little bit of each of the characters in all of us," he tells Thank You For Being A Fan about the huge appeal of "The Golden Girls" and "The Lost Episodes." 
The opportunity to play even a parody version of Blanche, he says, is liberating.
"But I do  think  there's something so freeing about Blanche;  her confidence and who she is so unapologetically."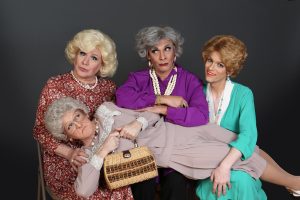 Hell In A Handbag Productions first began sending up "The Golden Girls" back in 2017. Drager was cast then as Rebecca, Blanche's daughter. 
As "The Lost Episodes" kept filling houses, Drager booked Blanche and has stuck with the role ever since. He feels like he grows more in tune with the essence of the character with each new episode.
"It's such an interesting opportunity because I feel like every time I get to portray her, I find new moments and I experience new things," he says. 
There's no denying Blanche's strongly expressed desire for male attention on "The Golden Girls." The character on TV and on stage is deeper than just being horny by Drager's experience. 
"Her being sexual has never been a compromise of her morals. When she was with her husband, she was faithful and true.  And now this is who she is and she owns her sexuality," which Drager says no version of Blanche should be ashamed of.
 "I think it's her confidence and love of who she is that I admire so much. I love getting locked into that. So I think I identify with her in that ability to self love. It's therapeutic in that way," he says.  
Put some clothes on Blanche!
A tangible way Drager meets with the character is through Blanche's clothes and costumes. 
 "I've developed these wonderful hip pads that help me lock into who she is and to get that swivel in her walk," he says. 
Drager is a stakeholder in Outskirts Vintage, a clothing and accessories retailer in Chicago's Ravenswood neighborhood. He's always got an eye out for Blanche's fashions. 
"It's very often that actually something I'm wearing on stage is something that I pull that's a vintage 80s piece. I'll see it and think 'that's so Blanche' and I've gotta have it, " he says. 
Trivia Gold!
Dorothy's character stood out on "The Golden Girls" as the most book smart of the four ladies.
Drager's deep knowledge of "The Golden Girls" has him singled out among his castmates as a "Golden" expert. 
"The cast behind the scenes knows that I am the person if there's a 'Golden Girls' question — when it comes to timeline, character, who was in an episode or not an episode, would this make sense for the character — that I'm a really great reference."
Drager owns it. 
"I am that 'Golden Girls'  nut. I am that fan who's watched through the seasons multiple times."
Just how deep does that knowledge of "The Golden Girls" go?
"A really great example is we were talking about Stan's wives. David [Cerda, Dorothy and playwright for "The Lost Episodes] asked a question about something.  I realized later I just kinda laid in. I said well you've got Dorothy. Then you've got Chrissy who he divorced after he was in Hawaii. Then we have Catherine, his third wife. And Dorothy was sitting at the bar with her and talking. And I just went on and on and on and I said then she wasn't referenced much again," he recalls of a time when his castmates weren't as committed to his deep knowledge of the show as he is.  "And David says 'I didn't care that much about it.'"
See for yourself
Drager and the entire cast of Hell In A Handbag's "The Lost Episodes" will be performing nightly April 22-24, 2022 at the first ever Golden-Con: Thank You For Being A Fan convention. 
Drager is also bringing some Miami energy to a Ravenswood Golden Girls drag brunch February 26, 2022 at Artifact Events. 
Find out more:
Hell In A Handbag Productions
Outskirts Vintage
Golden Girls Drag Brunch
Saturday, February 26, 2022 
Artifact Events
4325 N Ravenswood Ave
Chicago, IL 60613
https://www.eventbrite.com/e/golden-girls-drag-brunch-tickets-249441675767