One Golden Girl and One Backwoods Barbie
Betty White and Dolly Parton are more alike than you think
On Dolly Parton's birthday, take a look at some ways her life, achievements, and career turns mirror the legendary Betty White's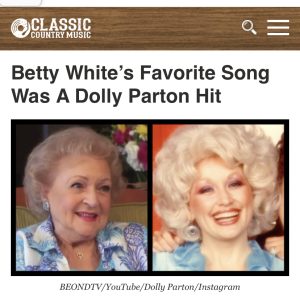 There's a quote that's often attributed to Dolly Parton that goes something like "When someone shows you their true colors, believe them." 
And you better believe it's those true colors of Dolly's that leave some observers comparing her toTV comedy legend and star of "The Mary Tyler Moore Show" and "The Golden Girls,"  Betty White. 
Like Parton's beloved "Backwoods Barbie" lyrics, the truth about the vast similarities between Parton and White runs "true and deep."
"Yes! And I've had meetings with Dolly Parton. She's like the real Dolly Parton. The one you know and love. I think that's a good comparison," says Stan Zimmerman, an entertainment multi-hyphenate who worked with Betty White as a writer and producer on the classic first season of "The Golden Girls."
Zimmerman, who has taken in-person meetings with Dolly Parton is adamant that while Parton and White aren't necessarily connected in many ways, there's plenty of reason to draw big comparisons between the two showbiz legends. 
It will come as a surprise to precisely no one that Zimmerman credits both Dolly Parton and the late, great Betty White with immeasurable artistic talents and a whole lot of brains. 
"They both know how to tap into the different sides of their personas to play many different roles, " Zimmerman said during a December 29, 2021 interview with ThankYouForBeingAFan.com just two days before news broke of Betty White's passing at age 99.  "As an observer, I think that's helped them both manage to have such huge careers that seem to only get bigger with each passing decade," he said. 
Country girls have all the fun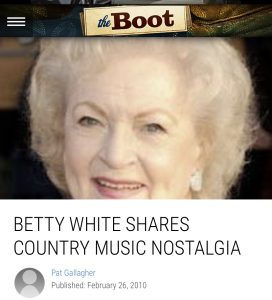 Turns out Betty White actually loved country music during her lifetime. Back in 2010, she told TheBoot.com that country music pulled her heartstrings. 
"Country music tells stories, and it's also basic," she told The Boot "It's the kind of music that reaches right inside of you because it's simple and it's direct. I just enjoy it thoroughly. It's relaxing and nostalgic. It can turn on some lovely memories and sometimes some poignant ones."
And there was just something about that Dolly Parton, something special about her that Betty White said she loved. 
"I like Dolly's whole approach to life with ongoing and uplifting songs. I never met Dolly but everything I ever heard about her she was a great gal to know and you could kind of get it in her music and her voice and her approach to lyrics" 
White told The Boot that Dolly's "9 to 5" was one of her favorite songs.
Starting at the beginning
Betty White was born January 17, 1922 in Oak Park, Illinois. She would speak of her parents, Tess and Horace White, with the kind of devotion and fondness that could easily make a listener believe she had a very pleasant growing up period. 
White talked about how her love for animals was passed down from her beloved parents. She recalled in interviews how she and her parents would pack up and camp in the Sierra mountains for weeks at a time during vacation periods. White would recall to interviewers how her childhood peers would sometimes bristle at the idea of camping with parents. White said she loved it. 
Precisely 24 years and 2 days later, Dolly Parton was born at home in rural, remote Sevier County, Tennessee. She was the fourth child out of 12 for Avie Lee and Robert Parton. East Tennessee wasn't exactly a boomtown at the time. So, economically, times were tough for the Parton family. 
But, ever the optimist, Dolly Parton says she didn't necessarily see it that way. She dreamed of Nashville and the Grand Ol' Opry as a child. But her work, her music, often harkens back to the little country girl born to sharecroppers in East Tennessee. 
White Hot
Even since news broke of her passing on December 31, 2021, it seems like Betty White has been everywhere. Her face lit up magazine covers published in advance of what would have been her January 17, 2022 100th birthday. "People" published a birthday cover and special edition then quickly pivoted to a memorial cover and commemorative special edition. 
White's 2010 "Saturday Night Live" hosting gig has been rebroadcast and streamed.
"The Golden Palace," a spinoff of "The Golden Girls" hit Hulu January 2022. And cinemas across the US showed a planned birthday celebration turned memorial documentary about White's life and career called, simply, "Betty White: A Celebration."
It's almost too bad Betty White wasn't around to promote a new sitcom or a movie project because she seemingly couldn't be a hotter Hollywood property than she is right now. 
Betty White has, of course, surfed atop the waves of Hollywood stardom and big, media hype. Though Betty White had never really sat out of working for any prolonged period since she began her entertainment career back in the 1940s, she capped off a period of high profile success in sitcoms in the 1970s through the 1990s with some hilarious, Emmy nominated guest shots through most of the first decade of the 2000s. 
But by 2009, she was, well, White-hot again. She capped off a scene stealing turn in the 2009 feature "The Proposal" with a SuperBowl Snickers commercial that outshone the actual 2010 game. 
Just to assert her dominance, Betty went ahead and made a legendary mark on the new media that was emerging at the time. Remember Betty White's Emmy winning turn as guest host on the May 8, 2010 "Saturday Night Live"? She got to Studio 8-H with a huge push from an early viral Facebook campaign orchestrated by fan David Mathews.
The  "Betty White to host 'SNL' (please?)!" Facebook petition was launched New Year's Eve 2009 by Mathews. By February 2010, it would help launch White — and Mathews — back into the forefront of online and traditional media. 
"The Betty White wave had already begun. Maybe the online campaign was successful because that renaissance had already begun. I think that's the likeliest answer," he figured during a January 15, 2022 interview for ThankYouForBeingAFan.com.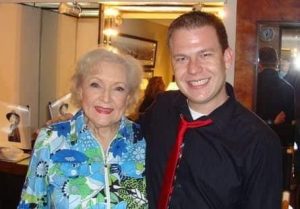 Mathews' husband, Eddie Vandermark recalls that he and his husband were suddenly much in demand because of the magnitude of the Facebook campaign's reach. It did go on to get about 650,000 likes and followers.
Before the year was out, White took another star turn as Elka Ostrovsky, the wisecracking neighbor foil to the three main characters on "Hot In Cleveland." She'd hang out in Ohio for six seasons. 
Mathews, of course, largely agrees that Betty White and Dolly Parton are sisters under the skin. 
"That's a pretty strong comparison," he said. 
He got to know Betty White a little bit over three separate encounters. He's a fan of Dolly Parton. 
"They both conjure up the best in us, in an aspirational sort of way. They are both a bona fide personification of good in a time when we could all use a little more good in our lives," he says. 
Ain't that the truth. 
Here She Comes Again
Dolly Parton didn't exactly sit back through the 2010s herself. She began the decade embarking on a headlining tour. Then she took on starring roles in feature films like "Joyful Noise" and "Gnomeo and Juliet."
Her star seemed to rise right along with the number of registered users for interactive social media platforms like Facebook. She'd have viral moment after viral moment including a slowed down version of her 1970s monster hit, "Jolene," which only seemed to add to the haunting melody of a woman bargaining her heart with a romantic rival. 
She rounded out the decade by playing bigger and bigger venues and charting big returns on albums that rivaled any earlier period in her career. 
By 2019, it seemed like there really wasn't anywhere else for Dolly to go. She was arguably the most beloved celebrity in the western world rivaled only by, well, Betty White. 
Like Betty White, it was new media that took Dolly from seriously well loved to right back into the forefront of the pop conversation. 
While podcasts have been around forever, their listener net was cast wider and wider by a series of super hit shows on topics ranging from decades old murder cases to the curious disappearance of Richard Simmons from the limelight. 
"Dolly Parton's America" which took a somewhat academic look at Dolly's backstory, career, influence, and influences, put Dolly's inimitable voice in the ears of podcast listeners and expanded the medium across Dolly's big, wide, inclusive fan demographic. 
Everybody was talking about Dolly and the podcast through the fall of 2019 up through and beyond the podcast's last new episode drop on — you guessed it — New Year's Eve 2019.
But that's just grist for the mill, according to Stan Zimmerman, who says Dolly's charisma — that magnetic authenticity and electric goodness — is seemingly unstoppable. 
Betty White, he says, is cut from the same cloth. 
"When you think of  Dolly Parton…when she puts on that beautiful hair and those sparkly clothes, she becomes the Dolly Parton we all see. You've never seen her without all of that. It's the same thing with Betty. You've never seen her without that look in her eyes and being one hundred percent on," says Zimmerman. 
Betty Be Good To Me
Of course we know that Betty White had a gift for entertaining people like few others can claim.
Zimmerman asserts that Betty White's talent didn't shrink with the passing of time. 
"Years later (after "The Golden Girls") I was shadowing a director on "Hot In Cleveland" so I got the chance to see her later in life. It was so amazing because she was getting a little older at that point. But put her in front of that live audience and she's making jokes and is sharp as a tack," Zimmerman recalled. 
"You couldn't help but really like her. And you see why she's been so successful," he said.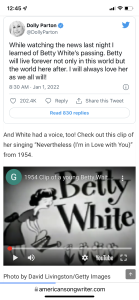 "Be a Betty. Be a Dolly."
Parton joined the millions of voices who spoke out about Betty White following the news of her passing. She tweeted, "Betty will live forever not only in this world but the world here after. I will always love her as we all will."
Mathews is still proud to be associated with the First Lady of US Television. 
He joins her millions of fans around the world who want more time with her. 
"What a life goal to live to be 99.9 years old and people still think your life ended too soon," he said. 
For all the love and attention Betty White received during her lifetime. Zimmerman didn't feel it was quite enough.
"She hasn't gotten as many acting accolades as she deserves. To be able to play Rose Nylund and Sue Ann Nivens — which could not be any more different —  from the same actor on two huge shows is something that doesn't happen," he said. 
"You're lucky in a career to have one hit show. The fact that she was on — and you should count "Hot In Cleveland" — you can say three huge shows is pretty remarkable. It just doesn't happen. And it can really only happen to someone like a Betty White. That's why I think she is always considered a national treasure."
Mathews says the smart money is on White and Parton staying at the forefront of popular culture. 
"I've never in my life — not one time — met someone who said to me 'I don't like Betty White'.  I don't think I've ever heard anyone say they don't like Dolly Parton either. In a world filled with too many Karens, be a Betty; be a Dolly," he advised.