Dinah Manoff Moves in to Golden-Con!
"Empty Nest" star has a "Real True Hollywood Story" to tell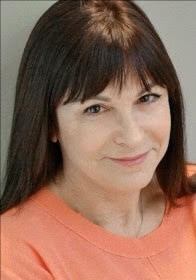 Golden-Con organizers are proud to welcome special Golden Guest Dinah Manoff to the first ever Golden-Con: Thank You For Being A Fan Convention April 22-24, 2022 at Navy Pier in Chicago. 
The multi-talented Dinah Manoff is confident in her ability to deliver goods to her eager fans. So when those fans gather at the first ever Golden-Con: Thank You For Being A Fan convention, she knows exactly what they want from her. 
"The fact is I have many things to share about that time. And I'm going to share it all from the stage," she promises. 
She joins Golden-Con to be a part of our Golden Guest Gab Fest panels and also to talk about her life and career resumé which includes credits as an actor, a director, a screenwriter, a teacher, and now, a novelist. 
Her "Real True Hollywood Story"
"It's not my story. But it's based on the experiences I've had and the people I know," she says of "The Real True Hollywood Story of Jackie Gold," her debut novel. 
She'll be reading from it at Golden-Con, where it will be available for sale. 
Dinah Manoff's experiences include being the daughter of Oscar winning filmmaker Lee Grant and screenwriter Arnold Manoff. 
Jackie Gold, the main character in Manoff's novel, has a life altering experience with a paparazzi swarm. Manoff recalls lots of experiences with tabloid celebrity rags — at their readership peak in the 1980s and 1990s — that range from silly to traumatic. 
"We went through a period on 'Empty Nest' when Richard [Mulligan] was involved with someone who was tabloid worthy. They had to set up security on set," she remembers. 
She also recalls hearing about tabloid stories that said she dyed her hair to match the coat on Dreyfuss, the Weston family dog on "Empty Nest." 
But it was a tabloid run-in at home a few years after "Empty Nest" finished it's seven season run that made the biggest impression her, she says. 
"One day right after my first child was born one of those guys showed up at my front door to try to ask me some very personal questions."
She didn't like that one bit. 
" I was overcome with just…rage. I chased him away. And I immediately called my lawyer." 
Shortly after that, Manoff watched as Princess Diana's paparazzi involved car crash death played out on the news for weeks.
"That's the germ of where I started writing 'Jackie."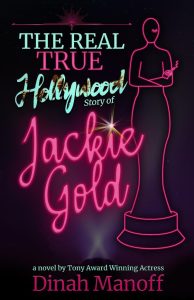 "Soap," "Grease," and Sophia
Manoff got an early start as an actress playing teen roles on TV while she was still in her teenage years. Within a few years, she was putting on a pink jacket as Pink Lady Marty Maraschino in "Grease." 
Becoming a part of "The Golden Girls" family seemed to be part of Manoff's career destiny. She cleaned up with a recurring role on "Soap" under Witt/Thomas/Harris productions. A decade later, as the same producers were developing a spinoff for their mega-hit, "The Golden Girls," Manoff knew when she auditioned for "Empty Nest" that good things were in store. 
"It was one of the reasons I wanted to take the job. Susan Harris was the creator and I knew I was walking into a successful endeavor."
Before the end of the run on "Empty Nest," Manoff gained a golden co-star. 
Estelle Getty joined the cast of "Empty Nest" right after "The Golden Palace" closed. She stayed there for two years. 
Manoff remembers that time vividly and fondly. And she promises to tell it all from the Golden-Con stage. 
"She was my friend. We spent a lot of time together in her or my dressing room. I loved her."