Friend and Former Assistant Remembers Estelle Getty with Love
Richard Weaver fondly remembers a deep, unbreakable 15 year connection with 'Golden Girl' Estelle Getty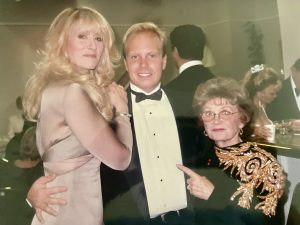 Golden-Con producers are proud to present Richard Weaver as a very special Golden Guest for our "All About Estelle" live panel presentations at Golden-Con: Thank You For Being A Fan April 22-24, 2022. 
"If you loved Estelle Getty, she would love you right back."
So says Richard Weaver, Getty's friend of 15 years including two stints as her live-in personal assistant. The diminutive acting imp, who brought the character of Sophia Petrillo to life, would persist showing love to her friends, Weaver says, even through broken bones. 
"Estelle was on the way to see Rue McClanahan perform in a Los Angeles production of "The Vagina Monologues," begins Weaver as he describes a circa 2001 date night between him and his friend and employer. 
"I hadn't realized at this point that she had gotten so frail. We went for pizza before the show… We're walking to the theatre. Estelle lost her footing as we crossed the street and started to fall down. I held onto her hand as she went down hoping to soften the fall…suddenly,  I heard a snap," he says. 
The snap would turn out to be a fractured arm. 
Weaver immediately pleaded with her to seek medical attention at nearby Cedars Sinai Hospital. As a devoted friend, Estelle wouldn't deviate one second from her plan for the night. 
"I'm not letting Rue down and I wouldn't miss it for the world," she said. 
She was headed to the Canon Theatre to see her friend and former castmate on "The Golden Girls."  Supporting someone she loved meant everything to Estelle Getty, Weaver explained.  
"She sat through that entire performance of 'The Vagina Monologues'  all while her arm was broken. She sat there completely in pain. I could see the swelling as we sat there,"  Weaver recalls. 
Getty and Weaver made a beeline to Rue McClanahan right after the show ended. Getty and McClanahan's interaction that night was short but very sweet to Weaver's memory. 
"Darling, I love you. The show was amazing and you were marvelous, but now I've got to go. I've got to get my arm set in a cast," Getty explained to a bewildered McClanahan.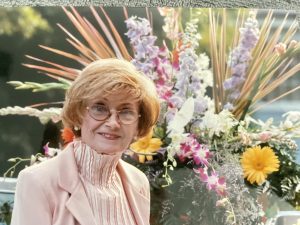 Picture it: Las Vegas, 1993
Weaver and Getty met at the Victor Awards, a sports award show, through Weaver's ex partner during a whirlwind Las Vegas weekend circa 1993. 
Beginning that very first night in Vegas, Getty and Weaver began fitting in a lifetime of adventures, one-of-a-kind experiences, and personal and professional highs and lows for the next 15 years. 
"I met her backstage because I was one of the on stage escorts for presenters and winners. My ex partner was a friend of hers from her Broadway theatre days. He did PR for her from time to time…He introduced me to her and we hung out all weekend. We went to seven Las Vegas shows that weekend. We just went show hopping — Penn & Teller, George Carlin, Cirque Du Soleil…it just went on and on," he says. 
This dazzling weekend would change Weaver's personal and professional destiny and he would soon begin living out some childhood dreams.
"I'm a lower middle class boy from Fairborn, Ohio and I'm only 23 years old at this point…There I am with one of America's favorite Golden Girls and she actually became my friend that night," he remembers.
Within a year, Weaver became Getty's right hand man and did, as he reports, everything for her with very little exception all to help make her life easier and comfortable. The skills he called upon to happily assist Getty came from Weaver's many different and diverse fields of experience.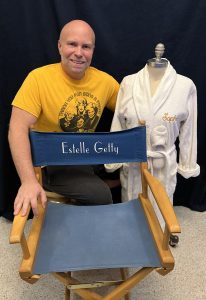 Drag-ed to work
"The fact that I was performing on stage as Dolly and Marilyn at the time…it was part of what she liked about me and part of the reason why she chose me to be her PA," he laughs. 
Weaver was something of a jill-of-all-trades entertainer in LGBT nightlife venues throughout southern California.  
He performed as Dolly Parton and Marilyn Monroe at The Queen Mary in Studio City, and clubs in Palm Springs. That's where Getty called him — back in the days before cell phones were in every hand or pocket — to let him know he'd scored the job with her.  
"They [Weaver's coworkers] thought it was a joke. They picked up the phone. I was in the middle of a set. They came over and interrupted me saying Estelle Getty is on the phone for you? Yeah right." 
But it really was her. She was ready to make her business relationship with Weaver official. 
"So? When can you move into my house?" she asked him during the call. A week later he was there.
Weaver worked full time and lived full time with Getty for the next three years. He paused for a year and came right back for another year when she called him after his replacement decided to move on.
"You're the only one who really knows how to take care of me. Will you please come back?" Getty pleaded.
Weaver says he ran right back to Getty's side without hesitation. Their friendship lasted the rest of Getty's life. Weaver was even a pallbearer and speaker at Getty's private funeral and memorial service at Hollywood Forever Cemetery.
"I'll always be there to take care of you," she would say, and Weaver gave her the same promise in return. "I loved her very much and the one thing I know for sure…she loved me right back!"
Weaver is set to participate and share his special memories about life with TV's Sophia Petrillo, Estelle Getty, during the first ever Golden-Con: Thank You For Being a Fan convention April 22-24, 2022 in Chicago. Tickets are on sale now.