Let Us Spell It Out For You: Bonnie Bartlett is coming to Golden-Con!
Bonnie Bartlett comes home to Illinois to welcome fans at Golden-Con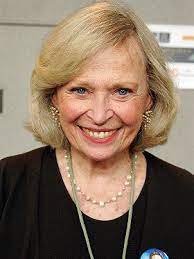 Golden-Con: Thank You For Being A Fan organizers are proud to present Bonnie Bartlett at Golden-Con April 22-24, 2022. Miss Bartlett will share career memories, greet fans, and no doubt cower under the guilt and notoriety of playing a rare villain on "The Golden Girls." 
Bonnie Bartlett is having a moment. 
Nevermind the history-making back to back Emmy awards at about the halfway point of her 67 years (so far) in front of TV and movie cameras. And feel free to gloss right over her connection to some of the most successful TV franchises since "I Love Lucy." 
What's important about Bonnie Bartlett on the minds of pop culture enthusiasts these days is the fact that she's been married to actor William Daniels, whose wise educator Mr. Feeney imprinted on 90s kids on "Boy Meets World," and later "Girl Meets World."
There have been internet memes, articles, and long discussions about how Barltett, who played Pennbrook University Dean Lila Bolander, Daniels' love interest on "Boy Meets World" is actually married to Daniels. They're so married that they celebrated their 70th (!) wedding anniversary in 2021.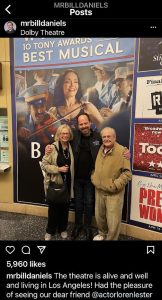 Bonnie Bartlett grew up in Moline, Illinois. She met Daniels in Chicago when they were acting and theatre students at Northwestern University. Bartlett later studied acting under Lee Strasberg. 
By the middle 1950s,  Bonnie Bartlett began booking roles on New York based TV shows including a long stint on "The Love of Life," a daytime drama broadcast live five days a week. And a career was born. 
Bartlett and Daniels made Emmy award history as only the second married couple to receive acting awards for both partners on the same award night back in back in 1986.
They got those Emmys by playing — you guessed it — spouses on "St. Elsewhere," where the career demands on Daniels' Dr. Craig conflicted with the life Bartlett's Ellen Craig had in mind. 
Bonnie Bartlett is perfectly capable of working without her life partner in tow. And, when given the opportunity, her work has left some indelible marks across TV and movie history. 
She stunned "The Golden Girls"  — for instance — when she played Dorothy's highfalutin and intolerant new bestie, author Barbara Thorndyke. 
Bartlett goes down in TV history on the very short list of folks who played outright villains on "The Golden Girls." 
She's in even rarer company as a guest who stood toe-to-toe with our favorite Girls and whose character got a laugh and was in on the joke: "If you laid all the women in this room end to end; I wouldn't be a bit surprised."
Her trip to Miami's fabulous Richmond Street wasn't without big stops on the way. Bartlett worked 79 "St. Elsewhere"s. She played Ann Norton in the chilling "Salem's Lot" miniseries. There was a long TV homestead as Grace Snider on "Little House on the Prairie." And she popped up in some big TV event movies and miniseries like "The Legend of Lizzie Borden" and "North and South." 
Bartlett will reminisce with fans about her trip to Miami and her 67
And Bonnie Bartlett gets around still. She traveled to Port Charles for a recurring stint as Miriam Spinelli, the strict grandma of nerdy antihero Damian Spinelli. She's booked "Key and Peele" and "Better Call Saul" too.  
Bonnie Bartlett will be greeting Golden fans and reliving her 67 years in front of the camera at the first ever Golden-Con: Thank You For Being A Fan convention April 22-24, 2022 in Chicago. 
Find out more about Golden-Con! Tickets are on sale now!