"CAREER ORIENTED" AMELIA KINKADE JOINS GOLDEN-CON
DANCER, AUTHOR, ACTRESS, ANIMAL ADVOCATE WILL SHARE MEMORIES OF WORKING WITH AUNT RUE MCCLANAHAN AT GOLDEN-CON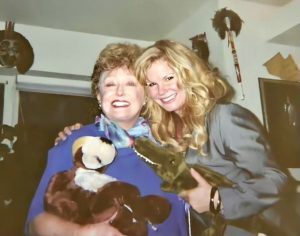 Amelia Kinkade joins Golden-Con: Thank You For Being A Fan to share her memories about working in Hollywood and working alongside and getting to know her aunt, Rue McClanahan.
She promises to share real-life stories about her aunt Rue that "will make you howl with laughter."
The McClanahan family bonds are strong. And even now, Amelia Kinkade feels a connection to her beloved aunt Rue. "I loved her more than life itself. And the stories I can share will have her chuckling from heaven," Kinkade says. 
Amelia Kinkade took off to Hollywood to dance professionally. Pushed by her aunt, Emmy winner Rue McClanahan, to go out for acting roles, Kinkade would end up dancing her way into cult classic cinema history. 
She danced her way across the screen for breakdancing classic "Breakin' 2: Electric Boogaloo;" behind Patrick Swayze in "Roadhouse" on the big screen; and "Fame" on TV.
Kinkade is the daughter of Rue McClanahan's younger sister, Dr. Melinda McClanahan. 
Trying out for acting roles got Kinkade on-screen next to her aunt on "Mama's Family." And she reminded Dorothy, Blanche, and Rose that "Hey! There's nothing wrong with being career oriented" in the season 2 classic "Ladies of the Evening" episode of "The Golden Girls."
Kinkade later landed in Genoa City as "The Young and the Restless" baddie Vivian, who met her comeuppance with a fatal offscreen electric shock. 
She kept dancing and acting and earned a role as Angela Franklin, a demon who likes to party and dance in "Night of the Demons." She choreographed her own dancing as Angela, which helped "Night of the Demons" score at the box office and get resurrected for two sequels starring Kinkade. 
Somewhere along the way, Kinkade found less time for the rehearsal studio and the soundstage, and more time behind the desk. She's authored six books about her gifts as an animal communicator. Today, she travels the world lecturing and demonstrating her unique abilities to find out what's on the minds of animals everywhere. 
Golden-Con: Thank You For Being A Fan tickets are on sale now. 
Find out more about Amelia Kinkade at her website: www.ameliakinkade.com