Stan Zimmerman set to relive "Golden" memories of TV's favorite "Girls" at Golden-Con in Chicago!
First ever convention for fans of "The Golden Girls" adds show writer and producer Stan Zimmerman to April 22-24, 2022 Golden-Con: Thank You For Being A Fan
Golden-Con: Thank You For Being A Fan is proud to present writer, producer, director Stan Zimmerman at Golden-Con April 22-24, 2022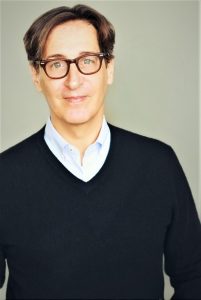 Golden-Con: Thank You For Being A Fan is the first ever (on land) convention for fans of the best TV sitcom yet broadcast. Golden-Con takes place April 22-24, 2022 in Chicago. Tickets on sale soon. 
The line that Stan Zimmerman wrote for "The Golden Girls"  that reverberates the most for him still today isn't even a punchline. 
"Stopping me from living isn't going to stop me from dying," as Rose's mother, Alma, points out to a too fussy and overprotective Rose in season one. Incidentally, in that same episode, titled "Blanche and the Younger Man," Zimmerman also crafted this immortal exchange between Blanche and Dorothy:
Blanche: "This is strictly off the record, but Dirk's nearly five years younger than I am."
Dorothy: "In what Blanche? Dog years?"
Stan has taken his own poignant  words to heart. He spent a full season as a staff writer for "The Golden Girls" inaugural season. Since then, he's fit a lifetime of work as a producer, TV and film writer, author, teacher, and now playwright onto his IMDB credit sheet. 
All that work took him around the world and back to Hollywood again on a miles long list of  projects as beloved and diverse as "The Golden Girls," "Rita Rocks" for LifetimeTV, and both 90s wickedly funny big screen "The Brady Bunch" movies. 
Not impressed yet?
 How many people do you know who can say they've worked with all four Golden Girls, Gene Wilder, RuPaul, and Leslie Jordan?
And don't get us started on "Roseanne." Because as if he hadn't already cemented his spot in TV history, Stan and his writing partner, James Berg, also wrote the groundbreaking and hugely controversial — at the time — "Don't Ask, Don't Tell" episode of "Roseanne" where Mariel Hemingway's Sharon character plants a hot kiss on Roseanne. 
These days Stan crisscrosses North America as a busy theatrical producer and playwright. That's when he's not mentoring and teaching the craft of sitcom writing to eager writers. 
 And he's signed with publisher Indigo River to tell his own stories  of working with "The Girls: From Golden to Gilmore." That's due out soon.
Keep up with Stan Zimmerman: www.zimmermanstan.com
Keep up with Golden-Con: Thank You For Being A Fan: www.thankyouforbeingafan.com