A Who, A How, and a Ha Ha!
Two-time "Golden" Guest Star Alan Blumenfeld is coming to Golden-Con!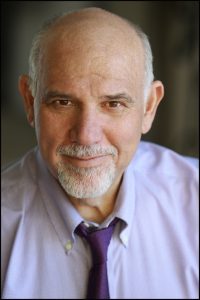 Golden-Con producers are proud to present journeyman actor Alan Blumenfeld, a two time guest star on "The Golden Girls," to Golden-Con: Thank You For Being A Fan April 22-24, 2022 in Chicago.
He's a very familiar on-screen face who's stared down hardened criminals, Roseanne, and even Jason Voorhees! But could his biggest on-screen challenge have been going up against our favorite girls? Twice?
Alan Blumenfeld is the very definition of a hardworking actor. You'd practically have to have avoided all TV and movies over the past 40 years to have missed him. He's brought characters to life — and death ("Friday the 13th Part VI Jason Lives") — and amassed a whopping 187 IMDB credits in some of the biggest entertainment franchises you can think of. 
That's all in addition to founding Free Association Theater alongside his wife, Katherine James. He's a decades long company member of California's A Noise Within and Theatricum Botanicum. 
And did we mention a Broadway run in Neil Simon's "Laughter on the 23rd Floor"?
With the Girls in Miami!
He made it to our favorite Miami neighborhood three times. First, he helped nudge our favorite ladies into the direction of home repair empowerment as Lou the plumber during the season one "The Golden Girls" episode "Second Motherhood." Next, as Ha-Ha the Clown, he tried to keep the show going over a very reluctant Dorothy's objections in the classic season two episode "A Piece of Cake." Hope that cake in the face tasted good! 
He came back to Miami in the 90s — while most of our girls were running a hotel — to help fill out an episode of "Empty Nest."
Alan Blumenfeld will be joining Golden-Con: Thank You For Being A Fan for all three days April 22-24, 2022. He'll be interacting with fans, posing for photo ops, and sharing his memories of his three trips to Miami. 
Check out all our announced Golden Guests at our website www.thankyouforbeingafan.com
Sign up for direct-to-your-inbox ticket announcements coming very soon (we promise) on our website homepage.