Golden-Con Venue and Ticket Update!
Golden-Con: Thank You For Being A Fan will welcome fans into larger Navy Pier venues for first-time event
As an effort to welcome as many fans as we can to Golden-Con: Thank You For Being A Fan, we have worked over the past four weeks to secure a more expansive venue.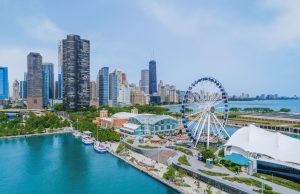 Our first ever Golden-Con: Thank You For Being A Fan celebration will be hosted inside the Lakeview Terrace and AON Grand Ballroom at Chicago's Navy Pier (600 E Grand Ave Chicago, IL 60611). (www.navypier.org)
Golden-Con is — and always will be — a celebration of, for, and by fans of our shared favorite TV show. Since we made our first, small announcement about Golden-Con: Thank You For Being A Fan back on November 22, 2021, the rush of fan engagement and excitement has been beautiful.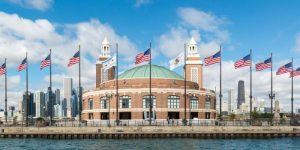 Golden-Con ticket sales update!
Golden-Con: Thank You For Being A Fan tickets on sale Monday, January 3, 2022
As promised, Golden-Con: Thank You For Being A Fan 3-day tickets are on sale effective 10:00 a.m. CST Monday, 1/3/22 via this unique link: 
https://tixr.com/e/34069
Single day tickets for entry Saturday, April 23 or Sunday, April 24 are coming very soon starting at $65 per day.
Why change the venue?
Moving Golden-Con to Navy Pier opens us up to welcome many more fans to share in our first-of-its kind celebration. Golden-Con at Navy Pier allows fans who are traveling from places outside Chicago access to more nearby hotel accommodations; enjoy one of Chicago's most popular entertainment destinations;  and get a firsthand look at Chicago's sparkling Lake Michigan shoreline. This also allows for increased capacity for panels with stars from the show, producers, our theater productions, autograph and photo opportunities as well the vendors' market. 
What if I've booked a hotel nearby the previous venue?
We realize many Golden-Con friends have already booked hotel accommodations in the Lakeview/Wrigleyville neighborhood close to our initial host venue. Those accommodations still allow easy access to Navy Pier through ground transportation and still allow you to access all the amazing nightlife opportunities in the Northalsted neighborhood; many of which will surely have Golden Girls themed events and specials for the weekend.  
It's important to reiterate that this move to our new Navy Pier host venue was made only so we can welcome more fans to share in the first ever Golden-Con experience. The new venue does allow us to increase our entertainment, special guest, and vendor offerings.  With that said, we will continue to announce amazing Golden Guests throughout the next few months leading up to the big weekend! 
Thank you for being our friend and fellow fan. We can't wait to see you April 22-24, 2022 at Golden-Con. 
Thank you for being a fan and friend.
B&Z